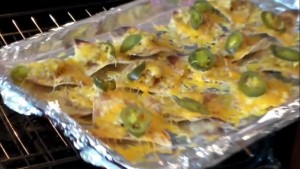 Homemade Chicken Nachos are a good treat. Very simple to make, but with a little more effort than cheese chips. With a little preparation and some hungry mouths awaiting, Chicken Nachos are sure to please. The idea came after we were at Chili's restaurant and the chicken nachos were not available anymore. That is when we decided that we would make them ourselves. Now since then, they have put them back on the menu as "Classic Chicken Nachos". They are so-so, now that we can make them ourselves and don't have to go out.
This can be customized many different ways to please anybody. Hold the bean, hold the jalepeno, add many other things.
How to Make and Cook Chicken Nachos
Get some boneless/skinless chicken breast from the market.
Cut the fat and skin off and cut them in small bite-sized pieces.
Add a shot of olive oil and some taco seasoning. (Taco Bell brand is good). We used two packets with 2 pounds of chicken.
Fry up the chicken in a skillet. Once it is finished, it is time to prepare the nachos.
Cover a cookie sheet or flat pan with tin foil
Turn on the oven to broil.
Spread out chips on the pan. Use large tortilla chips. The Tostito's Restaurant style are good. make sure and get a good bag and the chips have not been smashed. Place them onto the pan so they are barely touching. Original flavor or unflavored is best. Since we are adding the flavor, it is best to leave it plain. Salted is good, but you could also use unsalted. Trial and error is a good way to get it just the way you like it.
Canned Refried beans are now spread over each chip. Not too much, but personal preference should prevail.
Now take the chicken and add one piece to each nacho on top of the bean dip.
Now add cheese to each individual nacho. Make sure and cover them.
Now add one Jalepeno slice to each nacho. (Again, personal preference)
Make sure and move the oven rack up near the top. 2 steps down is probably good.
Put them in the oven and hold on tight. It only takes a minute or two. After about 45 seconds a spot check is warranted. Once it passes a minute, personal preference takes over. Make sure not to burn them. A little crisp is good, but burnt is bad.
Here is a video Chicken Nachos: How to Make and Cook