First thing, this is not a charger. I have tested this product to charge and it does so, minimally. It is for constant power. The usb connection on the side of the Go Pro unit is for charging.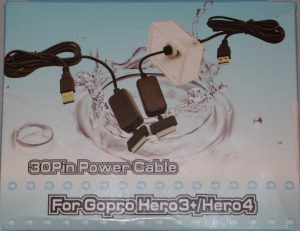 The 30PIN POWER CABLE WITH WATERPROOF BACK DOOR HOUSING FOR GOPRO HERO3+&HERO4
 will extend your gopro battery life forever, if needed, and is waterproof. I stumbled on this product a while back and have been using it successfully for a while now. This is a wired option, but is solid. There are a few pitfalls that I will warn you about, but otherwise I really like this product. This product is compatible with GoPro Hero 3+ and Hero 4. I have successfully completed several projects with it. The 30-pin power cable is great for extended time lapse projects.
I have another post where I went on about batteries and power packs, which only last 8-12 hours or so. Of course, you can continue to switch out the power packs, but waterproof is still an issue. Go Pro Battery – Battery Extender
Features of the 30-pin Power Cable for GoPro Hero
1 – It is waterproof. This is the best part. The one downside is the 6′ cable where there is a USB connection. This, of course, is NOT waterproof. So this means that the GoPro unit can be placed underwater for a few feet without problems. I would suspect that the cord can be cut and a new wire be soldered or connected somehow to be waterproof, but I am not going this direction yet. This setup works fine, and I can deal with rain. I place a plant pot on the ground, then place my connection on top of it, then place a 5-gallon bucket over this. Then the connection is not on the ground and is covered. I have also found a connection cover, that is not waterproof, but will withstand the rain and being wet. It just won't go underwater.


2- Unlimited run time. Once plugged in, it is ongoing. I have successfully done a 3-1/2 day time lapse so far, but that is the longest that I have done it. I would think that in a reasonable scenario, barring any extreme weather, that it would last as long as it had power and memory.
3 – The GoPro back door will work with my existing accessories.
4 – I have the option of 12v power, 110v power, power banks, and even plugged in to a PC. Of course, some options are as limited as they have capacity.
Pitfalls of the 30-pin Power Cable for GoPro Hero
1 – When you close the back door, the cable has a small box, which has to fit inside of the waterproof back door. This will make the cable inside the waterproof back door have to curve around to fit. There are two structural bands of plastic that run from the back of the waterproof back door towards the gopro unit itself. Make sure the cable is not in front of this. It will want to push it out into the seal, and may create a situation where the waterproof back door is not waterproof. If you are going to completely submerge the unit in water then this will come into play. If it is just getting rained on, then it may not be a problem. I found out about this the hard way.
2 – Plugging and unplugging, and withholding power may confuse it and will turn off in the middle of your project. I have had this happen. Once the 30-pin cable is plugged in, it changes the behavior of the unit. It is not like the USB plug where you can just plug and unplug and it will use the battery once it is without external power. Test, test, test.
3 – I have also had better luck with a power cord out to the project, then an adapter to plug in the USB of the 30-pin Power Cable directly to power. I am not sure why, but it seems to get to the finish line, without fail, more consistently.
Here is a link to the exact same 30-pin Power Cable without the waterproof backdoor:
This link is to a list of the best selling power banks on Amazon.com. Make sure and look at the mAh value as the higher the mAh the longer it will last.
You can use the 30PIN POWER CABLE WITH WATERPROOF BACK DOOR HOUSING FOR GOPRO HERO3+&HERO4
in conjunction with a power bank. Using a power bank will drastically increase the situations that you can extend your battery time. Getting the GoPro 30 pin connector with waterproof back door will extend your ability to leave the gopro oustide or even submerge the gopro under water.